sense n' react to the drop
July 13 - August 1, 2020

Different species of ants across the world have developed survival tactics to save their communities. While ants may not be able to predict the weather, ants have proven to be able to evince their readiness for storms. For instance, in order to survive a storm and ensure the safety of their queen and larvae, an entire colony of fire ants will assemble together to form a raft to float atop water until dry land is reached. In heavy rain, these ants will find a vertical stem or branch upon which they will form a column, allowing raindrops to glide the surfaces of their conjoined backs without washing them away.

Through touch and smell, ants are able to sense the changes in their immediate vicinity, and have developed abilities to pivot, prepare, and improvise to reorient themselves towards survival. Their antennae gives them their sense of smell, and thus ants can follow trails, sojourn for food, and recognize their own colony. A colony of ants has a collective brain as large as many mammals.

Sense n react to the drop

is derived from the collaborative survival skills that ants have practiced for 148 million years.

Hosted by Ochi Projects and organized by Visitor Welcome Center,

Sense n react to the drop

brings together five artists: Sonia Louise Davis & Ivan Forde of Harlem, New York, Joeun Aatchim Kim of New York City, Los Angeles based iris yirei hu and Paula Wilson of Carrizozo, New Mexico. Visitor Welcome Center is both an experimental platform ran in the style of an artist-run space and an emergent practice that has dedicated itself to artists whose truths are often eclipsed by the mainstream, whose foils include constructs other than whiteness, and whose stories are actively being written and difficult to tell. This exhibition includes a selection of artists that Visitor Welcome Center has worked with and supported, and the online platform is a glimpse into the more tangible and collaborative possibilities that VWC seeks to build.

The exhibition begins with a commitment to study and reflection and worlds into being our kinship with the natural world and one another. At a time when the majority of the world is isolated in distance, Joeun Aatchim's pieces reflect a yearning for contact and closeness. The disembodied voice of the narrator in

Foolish manifesto of the freedom of houseplants

remakes herself in a figure whose back is turned away from her viewers in

New Song

. Wilson's

Spread

is a reflexive depiction of the act of close looking and the study of interspecies regeneration between an orchid and a moth. The reality of interspecies procreation offers a speculative possibility upon which to experience the world and one another. hu's mutant theory takes off from Wilson's speculation, and supposes that one can remake the world through mythic realism. Caught in between two hands that cannot touch, a mythical moth transforms itself to the playful love between partners Sonia Louise Davis and Ivan Forde in

the way and the light

. Joy entangles the two, whose collaborative dance thrives from an improvised response to one another's movements. Blindfolded, Forde responds to Davis' calls in optimism and trust, and without hesitation, the sun, the sky, and the lake openly cradle their love.

Inspired by ants and their insistence on collaboration for survival,

Sense n react to the drop

is a creative score put together by artists whose slow and reflective practices deepen this shared moment of transformation.

— Visitor Welcome Center, July 2020

---
About Artists

Sonia Louise Davis born and raised in New York City, Sonia Louise Davis is a visual artist, writer and performer. She has presented her work at the Whitney Museum (NY), ACRE (Chicago), Sadie Halie Projects (Minneapolis), Visitor Welcome Center (LA), Ortega y Gasset (Brooklyn) and Rubber Factory (NY). Residencies and fellowships include the New York Community Trust Van Lier Fellowship at the International Studio & Curatorial Program (Brooklyn), Culture Push Fellowship for Utopian Practice (NY), Civitella Ranieri (Italy), Lower Manhattan Cultural Council's Workspace Artist in Residence Program (NY), Center for Photography (Woodstock), Snug Harbor Cultural Center (Staten Island) and the Laundromat Project's Create Change Fellowship Program (NY). Her book, "slow and soft and righteous, improvising at the end of the world (and how we make a new one)" is forthcoming with Co-Conspirator Press, a publishing platform that operates out of the Women's Center for Creative Work in Los Angeles. An honors graduate of Wesleyan University (BA, African American Studies) and alumna of the Whitney Independent Study Program, Sonia lives and works in Harlem.

Ivan Forde (b. 1990 Georgetown, Guyana; based in Harlem, New York City) works across printmaking, sound, and installation. Ivan's training in English literature and epic poetry guides the themes he explores in his visual art practice. Awards and fellowships include the 2020 Emerging Artist Award from Baxter Street Camera Club, Civitella Ranieri Fellowship 2019, The Paul and Daisy Soros Fellowship for New Americans class of 2017, ACRE Projects, Vermont Studio Center, Pioneer Works, and the Lower East Side Printshop. Group exhibitions and performances include Visitor Welcome Center, MICA, The Jewish Museum, SCAD, MCA Chicago, The Whitney Museum, Studio Museum Harlem Postcards, the International Print Center, Lagos Photo Festival 17, and a 2018 solo exhibition at The Baxter Street Camera Club of New York. Ivan graduated with an MFA in Printmaking from Columbia University.

iris yirei hu (b. 1991, Los Angeles, CA) is an artist who works in painting, fibers, text, and installation. She is interested in how people, places, and things are related, and sees art practices as a manifestation of entangled interdependencies. Her work centers learning as a method of engagement, and is both research based and dependent on lived experience. She has shown her work at the Los Angeles Contemporary Exhibitions (LACE), Oxy Arts at Occidental College, John Michael Kohler Arts Center (Sheboygan, WI), Los Angeles Municipal Art Gallery, Women's Center for Creative Work, Human Resources, Lenfest Center for the Arts (New York, NY), and Visitor Welcome Center. Her work has been reviewed and featured in the LA Times, Artforum, Carla, CNN, Sinovision, KCET, and X-TRA Online. She has been supported by the Paul & Daisy Soros Fellowship, Foundation for Contemporary Art Emergency Grant, Rema Hort Mann Foundation Artist Engagement Grant, among others. She is the co-founder of the emi kuriyama spirit award, an unrestricted artist and writer grant for those practicing in LA. She earned her BA from UCLA and MFA from Columbia University in the City of New York.

Paula Wilson was born in Chicago, Illinois, and received an MFA from Columbia University in New York and a BFA from Washington University in St. Louis. Wilson's artworks are in the collections of The Studio Museum in Harlem, Yale University, Mildred Lane Kemper Art Museum, The Rubell Family Collection, The New York Public Library, and The Fabric Workshop & Museum. She has been featured in publications such as Hyperallergic, Artforum, The New York Times, The Brooklyn Rail, and The New Yorker. She is a recipient of the Joan Mitchell Artist Grant, Bob and Happy Doran Fellowship at Yale University, and Princeton University's Hodder Grant. Wilson is based in Carrizozo, New Mexico where she is co-founder of the artist organizations MoMAZoZo and the Carrizozo Artist in Residency (AIR).
---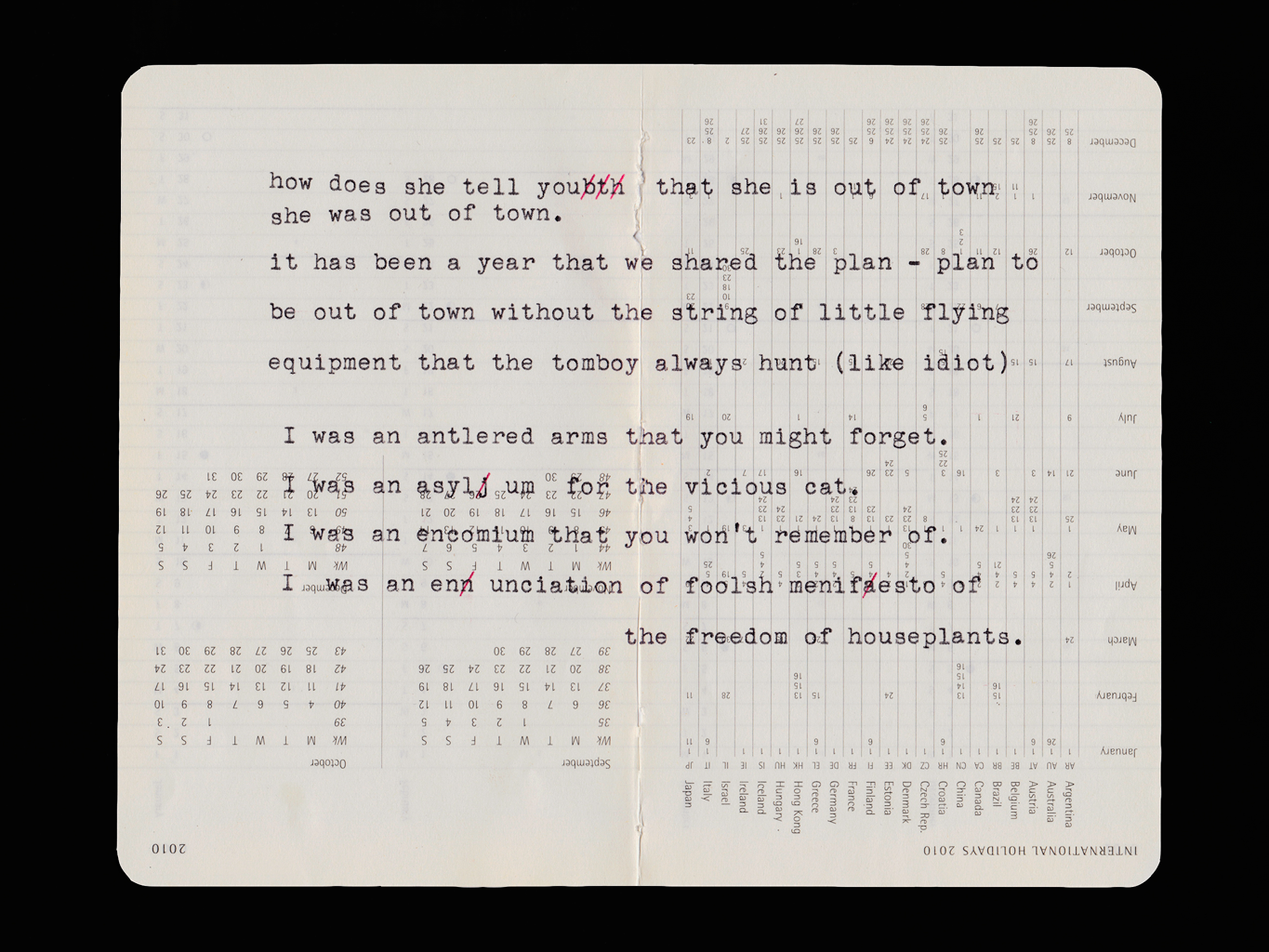 Joeun Aatchim Kim, "Your Poetry Reader _ #1 Foolish Manifesto of the Freedom of Houseplants", 2014. Video with sound, 1:02 loop. Edition 1/5.
Joeun Aatchim Kim, "New Song" , 2019. Mineral pigment on silk.11 x 14 inches.
Paula Wilson, "Spread", 2020. Three color screen print, two layer reduction print. 22 x 27 inches. Made in collaboration with Oberlin College Editions (edition of 20)
iris yirei hu, "mutant theory", 2020. Acrylic, cotton warp, gold leaf, hand dyed indigo on muslin, monotype, and wood on canvas. 22.25 x 19 inches.
Sonia Louise Davis and Ivan Forde, 2014 single channel video, 4 minutes 45 seconds original score by Javi Santiago and Tamara Renée.